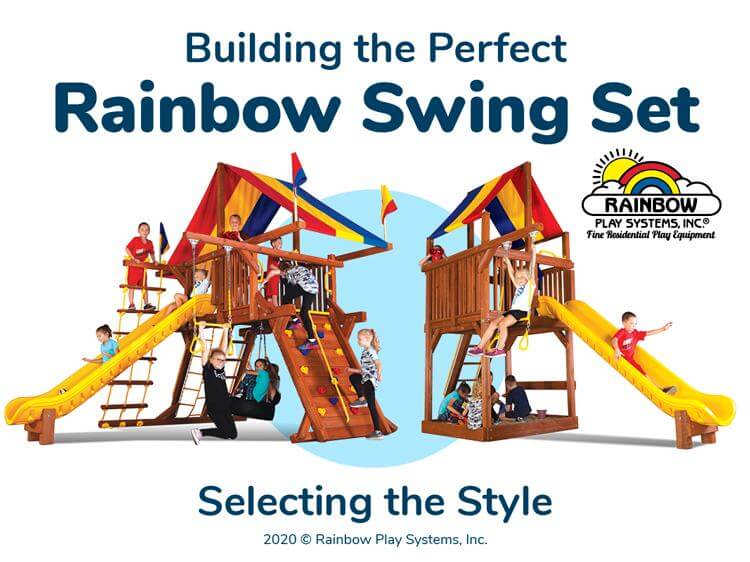 Selecting Your Swing Set Style
Buying a swing set can be an overwhelming task – with so many styles, sizes, and customizable options, where do you start? Here at Rainbow Play Systems, we offer a step-by-step process to help you create a play structure that the whole family will love for many years to come!
This blog post is part one of a three part series, exploring the process that goes into building the right swing set for your backyard and family!
What Swing Set Styles Do We Offer?
The first step is settling on what style works for your home. Each style has their own unique qualities that work best for different yards and families!

Castle Swing Sets
Unique Flared Silhouette – includes two extra wide customizable ladders.
Open Play Area – more room to run and ample shade underneath the main deck.
Balanced Structure – the best solution for un-level backyards.
Exclusive Options – enjoy the 360° Tire Swing and Jacob's Rope Ladder.

Clubhouse Swing Sets
Traditional Silhouette – easy to add new features & accessories with modular structure.
Two Play Areas – upper and lower areas offer more customization opportunities.
Compact Structure – the best solution for small backyards
Exclusive Options – enjoy the lower level Sandbox or Picnic Table.
Ask yourself what you are looking for in a swing set. Do your kids prefer to climb and swing, or do they want their own little spaces to relax and express their imagination? A checklist for keeping track of needs and wants is a great way to go!
Still unsure of how to proceed? Contact us at 636-530-0055. Our Family Owned and Operated Showroom for over 29 Years Is here help you choose the best style that fits your family and backyard!