Why Choose Rainbow

THE RAINBOW PLAYSET'S DIFFERENCE!
Rainbow Play Systems has over 36 years of Building Childhood Memories® and with more than 200 swing set designs to choose from, it's easy to see why we're America's Most Trusted Brand Name. And, if that's not reason enough, you can dig a little deeper into our history, safety features, warranty and more. We applaud you for being a cautious parent and you'll be happy to learn that we are too. Our commitment to safety, durability, and fun is what makes Rainbow Play Systems the best residential swing set manufacturer in the country. But don't take our word for it, you can find everything you need to know for yourself right here.
Highest Quality Material, Safety & Design Specifications
The Rainbow Castle Structure Design
The Rainbow Clubhouse Structure Design
Rainbow's Exclusive Super Scoop Slide Engineering
Rainbow's Exclusive Spiral Slide Engineering
Rainbow's Exclusive 10.5' Wave Slide
Rainbow's Exclusive 10.5' Scoop Slide
Rainbow's Exclusive Swing Beam Engineering Features
Rainbow's Exclusive Super-Duty Monkey Bars
The Mighty Rainbow Penthouse
Rainbow Play Systems Company History
While the scale of our swing set operation has changed over the last 30+ years, our focus remains paramount – creating the safest, most durable and highest quality swings sets available in America.
Company overview:
Established in 1985
675,000 sq ft manufacturing facility
150 employees
200+ dealerships around the world
250+ Showrooms around the world
100+ swing set accessories
Swing Set Safety is Our #1 Priority
Rainbow Play Systems is a trusted leader in wooden swing sets because of our commitment to quality and safety. With Rainbow Play Systems swing sets, you can be rest assured that every safety consideration has been tested, evaluated and tested again before ever reaching the finished swing set.
We choose only the finest materials for our swing sets. Our entire line is constructed with 100% Cedar lumber for the Castles, commercial-grade hardware, dual-bolt construction, heavy-gauge dipped safety chains, angled safety ladders, one-inch thick rope and interlocking notched-beam construction. Our massive solid-beam structures are held in place with recessed hardware and safety caps, and all our play surfaces are fastener-free. Our imported swing sets are made with 100% solid Pacific Cedar or scientifically named Cunninghamia Lanceolata.
Rainbow's use of solid timbers in key structural areas (main support members, swing beams and swing beam support legs) can assure you that NO safety, or quality is compromised in our imported sets. Our swing sets are designed to last a lifetime, while giving your child the wishes-come-true place to run, jump, and play to their heart desires. We've even developed an exclusive line of extensions and specially designed swing set accessories for unlevel yards.
Our history, safety features, and best-in-the-industry warranty are second to none. We know you're a parent whose number one priority is your child's safety. You'll be happy to learn that at Rainbow, that's our priority too!
Proud To Be Environmentally Green
Owning a Rainbow Play Systems swing set is an environmentally responsible choice. We are proud to use 100% certified cedar timber in the making of our swing sets. Our certified cedar swing sets are your best choice. Cedar is a great renewable resource!
When you purchase a Rainbow outdoor swing set, you are making an environmentally responsible choice.
How we stay environmentally clean:
For every tree harvested, five new trees are planted in it's place.
We do not discard any scraps carelessly. All "waste" or discarded wood material is used in production or recycled. While the larger pieces are milled and reused, the smaller pieces are sent through the chipper to make landscape mulch. The sawdust that is produced during production is shipped to Minnesota where it is used for poultry bedding. Once the bedding has been discarded it returns to the soil when it is used as fertilizer.
The Sustainable Forestry Initiative (SFI) calls for third-party inspections of forestlands for sustainability and habitat use. Our lumber material suppliers must adhere to one of two major forest initiatives.
All Rainbow Play Systems lumber suppliers are "Certified". Certification has been established to ensure timber mills produce "Certified Lumber". This means lumber that has been approved to be harvested under an agreement reached in cooperation with scientists, environmental groups and foresters. This initiative agrees that timber harvesting does not harm watersheds around streams or endanger wildlife, cause soil erosion, and maintains that one area can't be over-harvested.
Why our cedar swing sets are the very best:
All our harvested cedar trees are conifer trees which are highly decay resistant. This means they can be successfully utilized in outdoor environments for hundreds of years.
· DURABILITY – Cedar is a highly revered, durable lumber species that is naturally resistant to rot, decay and insects. Studies have proven cedar's high durability to outdoor applications.
· BEAUTY – Aesthetically, there really is no substitute for the natural beauty of cedar. Ingrained with decidedly crisp, superbly rich, tonal properties, cedar enhances traditional outdoor home decor and inspires innovative eye pleasing architecture.
· SUSTAINABILITY – Independent studies prove that when it comes to environmental performance, natural cedar is exceptional to synthetic products in every way. While other building materials generate greenhouse gases, cedar removes greenhouse gases from the atmosphere. And unlike plastic and vinyl, cedar is renewable and biodegradable. Plus, our cedar is sourced from the most sustainably managed forests in the world.
Our lumber mills provide us with a plentiful supply of lumber into perpetuity. We are proud to be "Green", using the greatest renewable resource. You should be too!
Go Green with Rainbow Play Systems!
THE RAINBOW CASTLE STRUCTURE DESIGN
Absolutely the Sturdiest Free Standing Residential Play Structure in the World.
---
THE RAINBOW CLUBHOUSE STRUCTURE DESIGN
---
RAINBOW'S HIGHEST QUALITY MATERIAL, SAFETY & DESIGN SPECIFICATIONS
For 36 years Rainbow Play Systems has been building the safest play sets on the market.
Rainbow's unparalleled engineering and structural integrity is the finest available. We build with 100% natural big beam cedar construction which is backed by our exclusive lifetime warranty.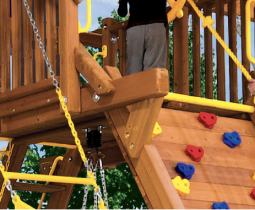 Big Beam Construction
Rainbow Play Systems are engineered to be rock solid & the foundation of our design is the abundance of big beam construction. Massive 4"x 4" & 4"x 6" timbers are utilized as structural components.
Notched Beam Construction
Essential for long lasting & durable structure. The notches that are cut into the end of the brace are designed to gain maximum support by bracing wood against wood. This greatly reduces the force on the lag bolt that holds the brace in position.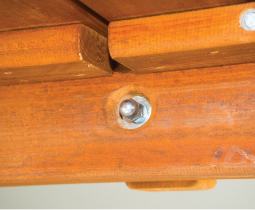 Recessed & Safety Capped Hardware
Extra attention to detail & safety includes recessed hardware throughout the play structure. The recessed hole has a routered edge & the bolt is double nutted capped off with an acorn nut.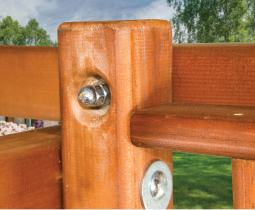 Massive 1/2" Hardware
Rainbow's Castle & Clubhouse feature massive 1/2" diameter thru-bolt hardware utilized in the entire structure for unparalleled strength & stability.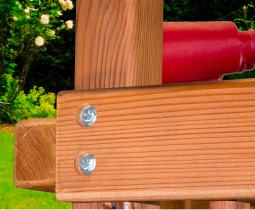 Dual Bolt Construction
Dual bolted construction detail throughout the play structure creates tremendous rigidity at the connection points for a vastly more stable structure than compared to the single bolt construction used by competitors.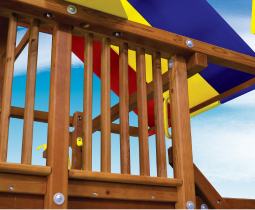 Vertical Spindle Safety Rails
Parents appreciate vertical slats because they prevent youngsters from climbing upwards. We use thick 2"x 3" boards which are attractively turned 90º to permit greater play supervision as well as allowing the natural surroundings behind the play structure to be seen.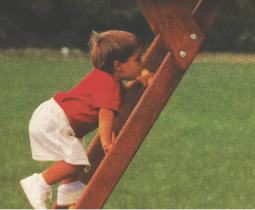 Angled Safety Ladders
Logical safety design in all Rainbow components, the angled ladder design is much easier to climb up & climb down.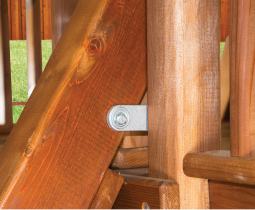 Ladder & Rock Wall Brackets
Used to brace the Ladder & Rock Wall securely to the play Structure creating a safe "no lift" design.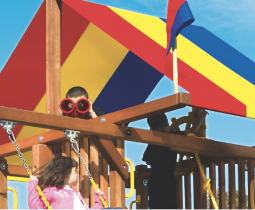 Heavy Duty 18 oz. Canopy
Our Heavy Duty Canopy offers protection from sun or rain to make everyday a great day to play. Our removable canopy is easy to clean, thicker than most in the industry & manufactured with UV protective material to mitigate fading.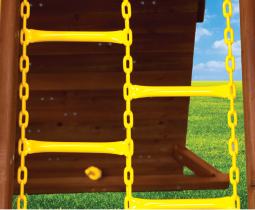 Plastisol Dipped Ladder Chains
Plastisol Dipped Ladder Rungs provide children a better surface to grip with their hands & feet as they climb while reducing slipping. Plastisol is extremely durable & won't chip or scratch. It also insulates the rungs from the heat or cold.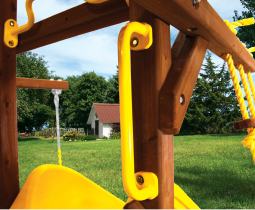 Powder Coated Safety Handles
Power Coated Safety Handles installed in key areas contribute to a feeling of comfort as a child is gaining access to an entrance or exit on their Rainbow Play System.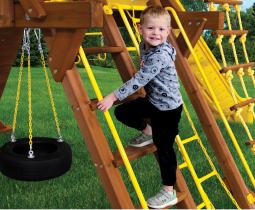 Powder Coated Ladder Handles
Power Coated Ladder Handles installed on the Ladders contribute to a feeling of security as a child climbs up the ladder to reach the Monkey Bars or play platform.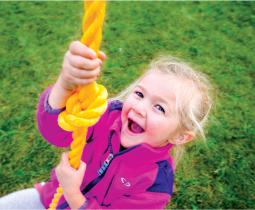 Full 1" Thick Rope
Rainbow only uses 1" thick rope – no thin 1/2" or 5/8" rope. Utilizing a full 1" diameter rope creates easy to grab rope, very large knots & eliminates tangling.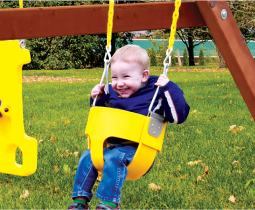 Full Bucket Swing
Safely secures little ones in the swing seat. This full bucket design originated in the commercial playground industry & has been used for many decades as the safest possible swing for smaller children.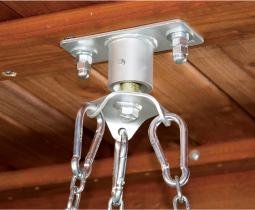 Heavy Duty Ductile Iron 360º Tire Swing Swivel
Ductile Iron has more carbon steel than traditional iron & is unmatched in strength. 360º swivel is double bolted & double nutted, includes 3 ultra safe carabiner mountain climbing clips & is backed by our Exclusive Lifetime Warranty.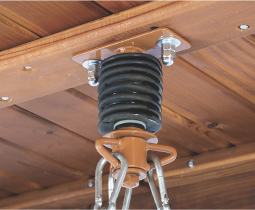 Super Duty 360º Tire Swing Swivel
Our Super Duty 360º Tire Swing Swivel is built with durability & strength beyond compare. It comes equipped with a rubber casing enclosure over the swivel action to keep it free from any entanglements.
A Closer Look at Our Attention to Detail
Creating the highest quality Swing Hanger design in the residential playground industry. The Incredible Rainbow commercial grade swing hanger has a proven track record of performance for over three decades.
Easy, Fun & Effortless Swinging
The ultra-smooth Acedtal Bushing within our swing hangers makes swinging a blast for all ages!! The Acetal Bushing will never wear out & will last a lifetime.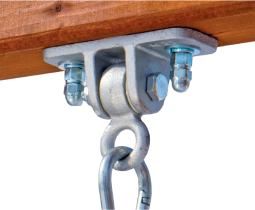 Rainbow's Commercial Grade Ductile Iron Swing Hingers
The finest quality, safest & most durable swing hanger ever created. Rainbow Swing Hangers will never wear out & will last a lifetime.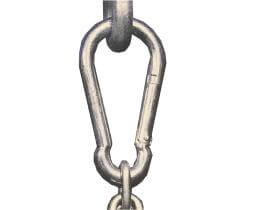 Mountain Climbing Carabiner
The absolute safest method to secure your swings to the swing hanger. Widely used & recognized by mountain climbers as the ultimate in safety.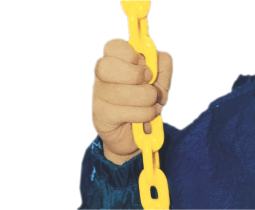 Plastisol Dipped Chaines
Our heavy guage chain is dipped in Plastisol creating a soft, pinch-free swing chain for children to hold on to. The Plastisol coating also insulates from heat & cold.
Building a Better Playset
Over 4 Million Rainbow Swing Hangers are in use worldwide. With a closer look, you can see why our attention to detail creates the highest quality swing hanger for residential playsets in the industry.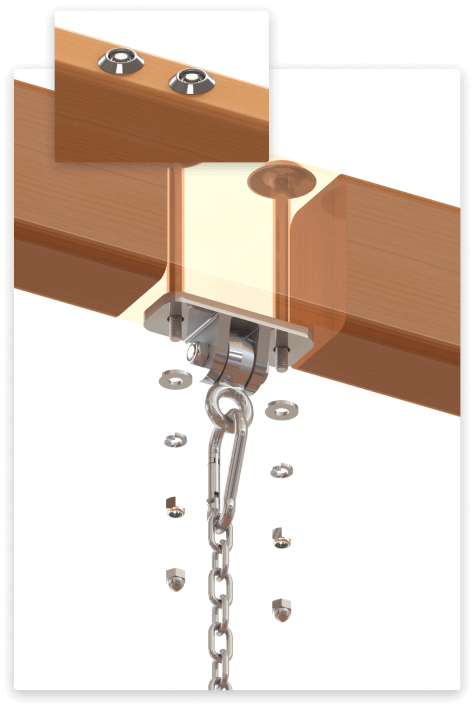 Rainbow's Exclusive Super Duty Swing Beam Design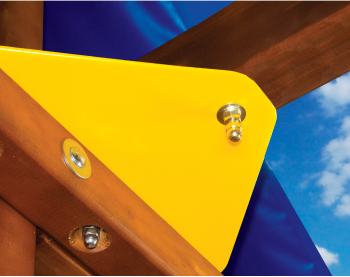 Rainbow's Super Duty Swing Beam Mounting Plate
Utilizing four half-inch carriage bolts to secure the swing beam to the base structure creates an ultra-strong & ultra-stable THRU-BOLTED swing beam connection point. The Mounting Plate is heavy gauge steel.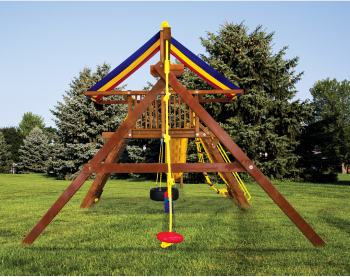 Equilateral Triangle A-Frame System For Maximum Stability
Our wide stance equilateral triangle A-Frame design is engineered based on the unparalleled stability of our swing beam support legs creating an equilateral triangle.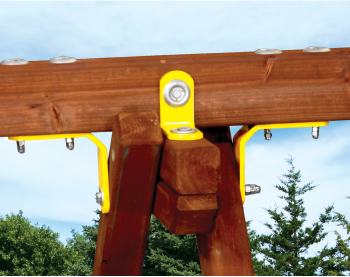 Exclusive Triple Bracket System
Another Rainbow original design that creates THREE connection points, is adjustable to accommodate any unlevel ground & has a proven track record being utilized on Rainbow Swing Beams for over 3 decades.
Rainbow provides the widest selection of solutions for unlevel yards in America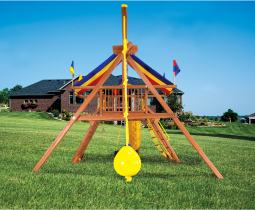 Sunshine Extended A-Frame Leg for an unlevel yard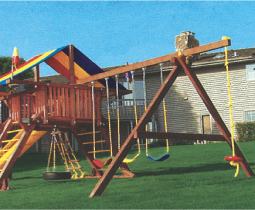 Super Turbo Rainbow Extended A-Frame Leg for an unlevel yard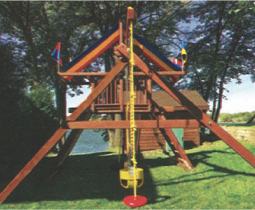 Double Extended A-Frame Leg for an extremely unlevel yard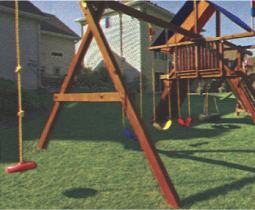 Two Extended A-Frame Legs for an unlevel yard that slopes away from main structure
RAINBOW'S EXCLUSIVE SPIRAL SLIDE ENGINEERING
RAINBOW'S EXCLUSIVE SUPER-DUTY MONKEY BARS
THE MIGHTY RAINBOW PENTHOUSE
RAINBOW'S EXCLUSIVE 10' WAVE SLIDE
RAINBOW'S EXCLUSIVE 10.5' SCOOP SLIDE
About The Rainbow Play Systems Warranty
The safety of your children is important to us. We applaud you for being a cautious parent and you'll be happy to learn that we are too. Rainbow Play Systems always uses the highest quality building materials so we can provide the best swing sets in the industry with the best warranty coverage in the swing set business. Rainbow swing sets are constructed with commercial grade materials even though they are intended for residential use. However, we do offer the Rainbow Play Village swing set line that is perfect for heavy commercial applications such as public parks and schools.
Because we choose the highest quality materials, we're able to offer outstanding warranties on our swing sets. Each Rainbow swing set is unique based on the features and components your family chooses to design your perfect swing set. There are literally hundreds of components and pieces that go into making each Rainbow swing set, each with its own lifetime, 5-year or 1-year warranty. The overall warranty document shared on this page covers the Rainbow Original Castle swing sets and Rainbow Original Clubhouse swing sets. Please refer to component photos to determine the precise warranty coverage for your unique swing set. And remember, many of our Rainbow Play Systems showrooms offer annual safety and maintenance services to keep your swing set safe and ready for play in your backyard.
A note about the wood: The wooden components in your Rainbow Play Systems swing set will have natural imperfections such as surface cracks, knots and knot holes. These are natural characteristics of wood. Natural imperfections such as these that do not affect structural integrity are not covered under this warranty.
Lifetime Warranty
Rainbow's 2021 Lifetime Warranty includes all Cedar lumber components against structural failure. Excludes all seasonal checks, surface cracks, knot holes and knots in the wood components. All scoop slides, Commercial Slope Slides, Tube Slides, Panel Mounts, Crow's Nests and Crawl Tunnels are included in the Lifetime Warranty. There is also a Lifetime Warranty on all Structural Hardware, Commercial Swing Hangers, Tire Swivels, Plastisol Coated Rungs, Plastisol Coated Brackets & Plates, Plastisol Coated Scoop Slide Brackets, Rainbow Plaque, Trapeze Triangles and Plastisol Coated Penthouse Loop Step.
Five Year Warranty
Rainbow's 2021 Five Year Warranty includes all Tarps, Ship's Wheels, Rope Disc, Binoculars, Telescope, Periscope. Megaphone, Bubble Window, Chalkboard, Flag Dowels, Gliders, Buoy Balls, Tic-Tac-Toe Panel, Driving Panel, Talk Tube, Ship Anchor, Punching Bag, Solar Lights, Bell, Ship Shelf & Ship Lock. Wave Slides, Tire Swings, Chain Ladder, Chains, Swing Seat, Flat Swing, Half Bucket Swing, Commercial Full Bucket Swings, Rock Wall Rocks and Swinging Tent are also included in the Five Year Warranty. There is also a Five Year Warranty on Powder Coated Rungs, Powder Coated Handles, Powder Coated Brackets, Powder Coated Plates, Powder Coated Chin Up Bar, Powder Coated Corkscrew Climber and Fireman's Pole.
One Year Warranty
Rainbow's 2021 One Year Warranty includes Rainbow's Ropes and Flags.
To register your swing set, submit a warranty claim, and find a list of warranties from previous years, please visit: https://register.rainbowplay.com/
---
There are no products in this category.