Selecting the Size
Buying a swing set can be an overwhelming task – with so many styles, sizes, and customizable options, where do you start? Here at Rainbow Play Systems, we offer a step-by-step process to help you create a play structure that the whole family will love for many years to come!
This blog post is part two of a three part series, exploring the process that goes into building the right swing set for your backyard and family! Miss out on part one? Check it out
here to get started!
What Swing Set Sizes Do We Offer?
The first step is settling on what size works for your home. Every Series has their own deck height and size that works for different yards and families!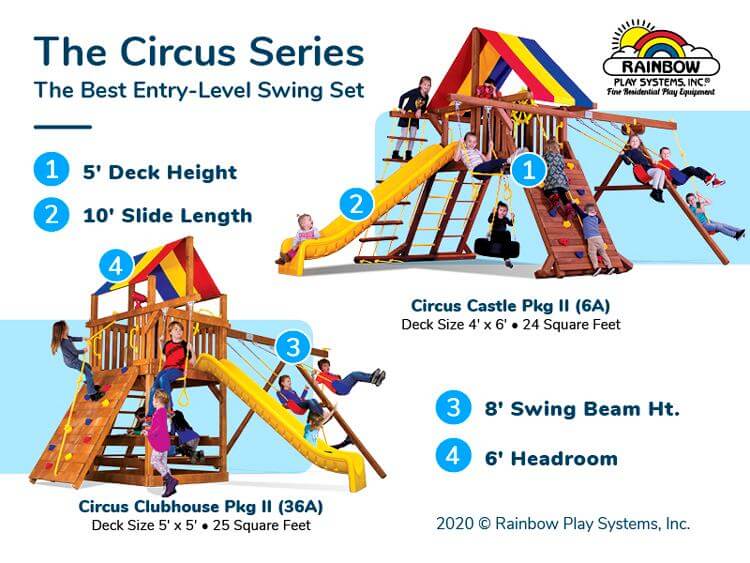 The Circus Series
The Circus Series is a great entry-level swing set! It packs a punch and is full of exciting features and configurations, perfect for both small backyards and young families. The Circus is a budget-friendly swing set that doesn't lose its signature Rainbow Swing Set quality.
5' Deck Height
4' x 6' Castle Deck Size
5' x 5' Clubhouse Deck Size
8' Swing Beam Height
10' Scoop or Wave Slide
6' Head Room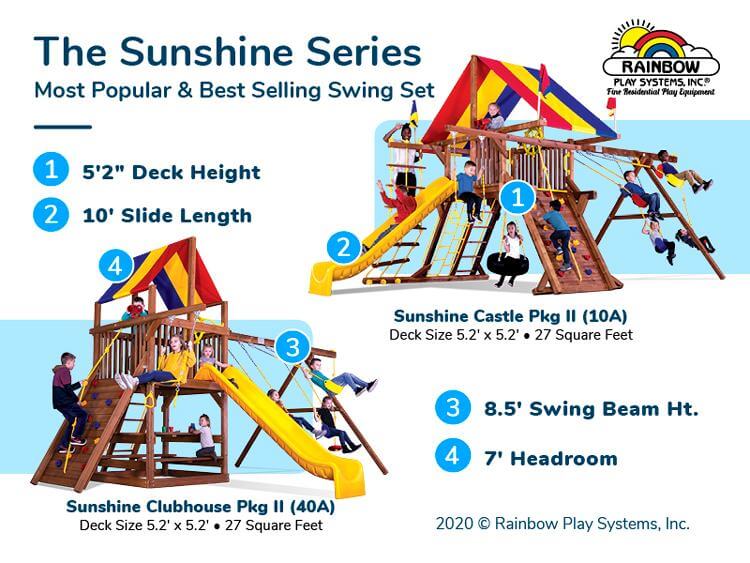 The Sunshine Series
The Sunshine Series is the most popular and best selling Rainbow Play System Swing Set! It's the perfect height for young children to easily grow into. More deck size means more play space for energetic kids and customizable add-ons!
5'2" Deck Height
5.2' x 5.2' Deck Size
8.5' Swing Beam Height
10' Scoop or Wave Slide
7' Head Room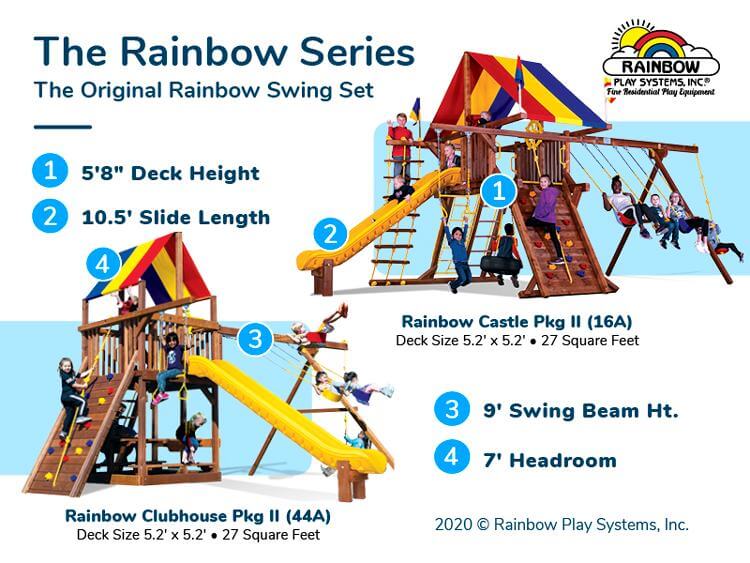 The Rainbow Series
The Rainbow Series includes the Original Rainbow Castle Climber® and the Original "Big" Rainbow Clubhouse! These swing sets are the gold standard in quality, safety, and beauty – they are more versatile with 8 rail openings, allowing more design freedom.
5'8" Deck Height
5.2' x 5.2' Deck Size
9' Swing Beam Height
10.5' Scoop Slide
7' Head Room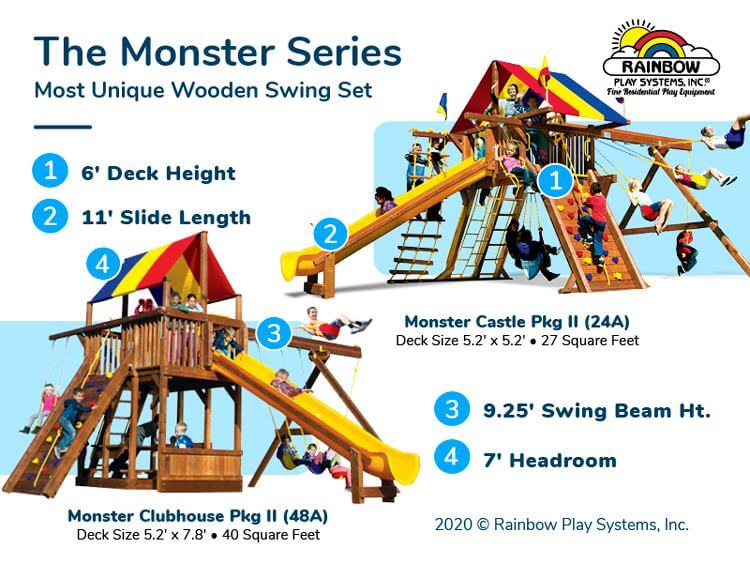 The Monster Series
The Monster Series swing sets are known for their heavy duty, big beam construction. This large, sturdy swing set is know for its custom and unique configurations! The Huckleberry Hideout Series is known for it's cozy Clubhouse aesthetic, which looks fantastic in a large, wooded backyard!
6' Deck Height
5.2' x 5.2' Deck Size
9.25' Swing Beam Height
11' Scoop Slide
7' Head Room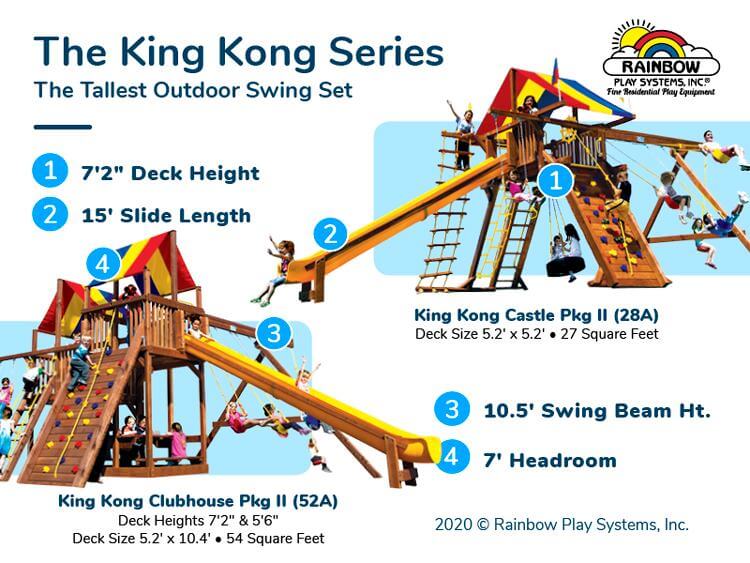 The King Kong Series
The King Kong Series is large and in charge! With a deck height of over 7', it's quite the neighborhood statement piece. Great for the biggest backyards and best for older children – the King Kong Series lasts more than a lifetime!
7'2" Castle Deck Height
7'2" & 5'6" Clubhouse Deck Heights
5.2' x 5.2' Castle Deck Size
5.2' x 10.4' Clubhouse Deck Size
10.5' Swing Beam Height
15' Scoop Slide
7' Head Room
When trying to figure out the best size for your family, ask yourself a few questions: How young are the kids, and how many do you plan to have? What is your backyard square footage? Another option is to visit any local showroom near you to check out the different deck heights and features in person! A salesperson may provide some insight and guidance on what works best for your family, and don't be afraid to ask about backyard consultations!
Still unsure of how to proceed? Our Rainbow Showroom distributors have been selling swing sets for many years – and they can you help you choose the best size that fits your family and backyard! Contact a local showroom to get started on the process of creating the perfect swing set!